*Police were at scene for further investigation
UPDATE: TMZ spoke with the manager of the motel and one of the residents. They say Jenkins checked in on Friday. He was dropped off by a woman in her early 20s who drove a silver PT Cruiser with Alberta license plates. She stayed for about 20 minutes and wasn't seen again. The room was paid for two days. When Jenkins didn't check it out today, the manager and his nephew went to check on him. When there was no answer, they entered the room and found Jenkins hanging by his belt from a coat rack. He was wearing a t-shirt and jeans.
UPDATE: Lt. Steve Holliday of Buena Park PD addressed the press, saying, "The sadness of this is all is that Mr. Jenkins will not stand before an Orange County jury for his crime."
UPDATE: His body was discovered at about 5:00 PM PT.
UPDATE: Jenkins was apparently ID'ed through fingerprints.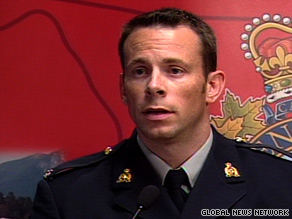 UPDATE: RCMP Sgt. Duncan Pound: "At this present time the investigation into the circumstances of his death is continuing, but preliminary evidence suggests that he took his own life. Any further details will not be released at this time as this investigation remains in its infancy."
Ryan Jenkins has been found dead in Canada, according to the Royal Canadian Mounted Police.
He was found dead in at Thunderbird Motel in Hope, B.C. of an apparent suicide, according to RCMP Sgt. Duncan Pound.
Jenkins' body was discovered by motel staff. According to law enforcement sources, he was found hanging.
Jenkins was charged on August 20 in the murder of his wife, Jasmine Fiore.
Fiore's mutilated body was found in a suitcase inside of a dumpster in Buena Park, Calif. on August 15.
Story developing … stay tune to toptodaynews.com for updates
source: tmz.com