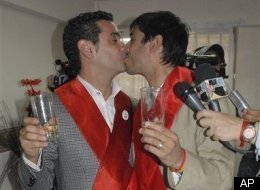 BUENOS AIRES, Argentina — Two Argentine men were joined Monday in Latin America's first same-sex marriage, traveling to the southernmost tip of the Americas to find a welcoming spot to wed.
Gay rights activists Jose Maria Di Bello and Alex Freyre were married in Ushuaia, the capital of Argentina's Tierra del Fuego state, exchanging rings at civil ceremony witnessed by state and federal officials.
"My knees didn't stop shaking," said the 41-year-old Di Bello. "We are the first gay couple in Latin America to marry."
The slim, dark-haired couple previously tried to marry in the Argentine capital of Buenos Aires but were thwarted by city officials citing conflicting judicial rulings. Argentina's Constitution is silent on whether marriage must be between a man and a woman, effectively leaving the matter to provincial officials.
This time around, they traveled to the southernmost city in the world, at the tip of South America, closer to Antarctica than Buenos Aires. The ceremony took place during the region's brief summer thaw.
Tierra del Fuego Gov. Fabiana Rios said in a statement that gay marriage "is an important advance in human rights and social inclusion and we are very happy that this has happened in our state."
An official representing the federal government's antidiscrimination agency, Claudio Morgado, attended the wedding, calling it "historic."
Many in Argentina and throughout Latin America remain opposed to gay marriage, particularly the Roman Catholic Church.
"The decision took me by surprise and I'm concerned," Bishop Juan Carlos, of the southern city Rio Gallegos, told the Argentine news agency DyN. He called the marriage "an attack against the survival of the human species."
Same-sex civil unions have been legalized in Uruguay, Buenos Aires, Mexico City and some states in Mexico and Brazil, but marriage generally carries more exclusive rights such as adopting children, inheriting wealth and enabling a partner to gain citizenship.
Di Bello, an executive at the Argentine Red Cross, met Freyre, 39, executive director of the Buenos Aires AIDS Foundation, at an HIV awareness conference. Both are HIV-positive.
At Monday's indoor ceremony, the grooms wore sport coats without ties, and had large red ribbons draped around their necks in solidarity with other people living with HIV.
Di Bello said the civil registry in the city of Ushuaia initially declined to authorize the marriage but went ahead after the couple received backing from the state of Tierra del Fuego.
"We filed an administrative appeal to the government of Tierra del Fuego, which finally authorized the wedding."
Legal analyst Andres Gil Dominguez said the Tierra del Fuego government appeared to base its authorization on a broad interpretation of the Argentine Constitution and obligations under international treaties.
Gov. Rios said the state's approval was based on a ruling by a Buenos Aires judge who declared two provisions of the constitution discriminatory and gave the go-ahead for the Dec. 1 marriage, which was then blocked by another judge's ruling based on civil law.
Individual provinces may not have final say over same-sex marriages for long.
A bill that would legalize gay marriage was introduced in Argentina's Congress in October but it has stalled without a vote.
Argentina's Supreme Court currently is analyzing appeals by same-sex couples whose marriages were rejected. A Supreme Court justice said on Monday that the high court would likely rule on same-sex marriage in 2010, but could defer to Congress if legislation moves forward.
Only seven countries allow gay marriages: Canada, Spain, South Africa, Sweden, Norway, the Netherlands and Belgium. U.S. states that permit same-sex marriage are Iowa, Massachusetts, Vermont, Connecticut and New Hampshire.
Earlier this month, lawmakers voted to make Mexico City the first in Latin America to legalize same-sex marriage. Leftist Mayor Marcelo Ebrard was widely expected to sign the measure into law.
source: huffingtonpost.com