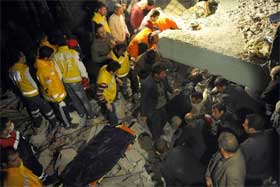 Powerful earthquake (7.2-magnitude) hit eastern Turkey on Sunday, flattening buildings and leaving survivors crying for help from under the rubble. Battling near-freezing temperatures and darkness, rescuers searched Monday for victims in eastern Turkey that killed at least 217 people, with more feared trapped in the rubble of dozens of collapsed apartment buildings.
Prime Minister Recep Tayyip Erdogan said the situation was particularly grave in Ercis, a district of around 100,000 people where around 55 apartment buildings have collapsed.
Television footage showed search and rescue teams recovering bodies from the rubble in Van city and Ercis, working under floodlights powered by generators as night fell.
"People are panicked. The telecommunication services have collapsed. We cannot reach anybody," Bekir Kaya, the mayor of Van, told NTV television.
Turkey mobilised some 1,275 search and rescue teams from 38 cities as well as 145 ambulances to speed to the aid of the victims.
The military said six battalions were also involved in search and rescue efforts.
Six helicopters, including four helicopter ambulances, as well as C-130 military cargo planes were dispatched to the area carrying tents, food and medicine.
Some 200 inmates fled the prison in Van province when the building was damaged in the quake, media reports said, adding that 50 of them returned to prison later after seeing their families.
US President Barack Obama said he had been following reports of the disaster "with great concern" and offered his condolences to the victims. "We stand shoulder to shoulder with our Turkish ally in this difficult time, and are ready to assist the Turkish authorities," he said in a statement.
The epicentre of the quake, which struck at 1041 GMT, was at Tabanli in Van province, the Kandilli institute said, and was followed by two strong aftershocks.
Although the quake damaged Van's airport it did not disrupt air traffic, the Anatolia news agency quoted civil aviation authorities as saying, and airlines launched additional flights to Van.
In 1999, two strong quakes in northwest Turkey's heavily populated and industrialised regions left some 20,000 dead. A powerful earthquake in the town of Caldiran in Van province killed 3,840 people in 1976.