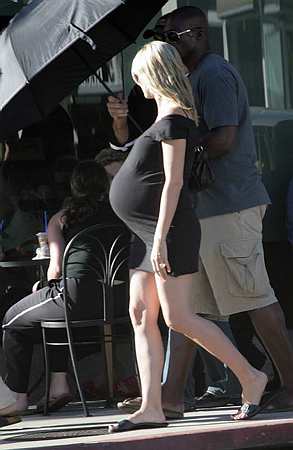 Heidi Klum made a surprise trip down the runway Thursday night at the Victoria's Secret Fashion Show. Wearing a corset and full skirt, Klum hit the catwalk to screams from the audience.
The 36-year-old previously said she would not be walking in the show this year as she just gave birth to her fourth child last month. Klum was supposed to only be acting as host. "You have less pressure. You definitely have less pressure when you don't shake your booty in front of millions around the world," Klum said Wednesday of her stint as host.
After the show Klum admitted she still has 20 lbs. of baby weight to lose, but she does not feel under pressure to shed it. "I embrace that I have more curves right now. I'm definitely one of the heaviest of the bunch of the 30 girls in the show," she said.
Klum is not the only Victoria's Secret model to recently give birth. Adriana Lima welcomed a daughter with her NBA star husband Marko Jaric on Sunday. Karolina Kurkova gave birth to a son on October 29.
source: