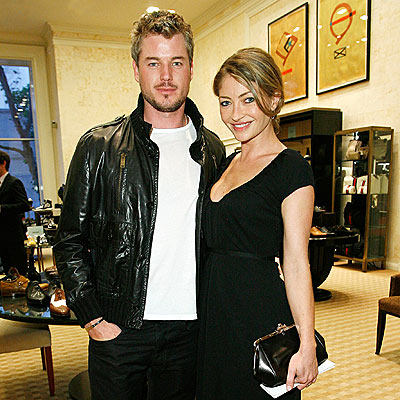 A new pair of famous faces have fallen victim to a nude scandal – and this time, they aren't Disney stars.
"Grey's Anatomy" actor Eric Dane and his actress wife Rebecca Gayheart are featured in a new scandalous video posted on Gawker.com.
The Hollywood couple, who have been married since 2004, appear out of sorts in the 12-minute video shot in former beauty queen Kari Ann Peniche's Studio City apartment.
In the edited clip posted on the Web site, the threesome appear fully nude and take turns passing around the camera as they discuss what their porn names would be.
Dane, 36, mentions a few of his past pet's names, however settles on the name of famous bull riding champion Tuff Hedeman.
At one point, Gayheart says she needs to lie down on the bed because she feels "very high."
The 38-year-old actress also mentions to her female companion that "we need to erase everything [on the camera] before you make your movie." To which Peniche replies, "We will."
However Peniche may not have been the best person to trust.
The 25-year-old, who was crowned Miss Teen USA in 2002, was stripped of her crown for posing in Playboy magazine and was briefly engaged to Backstreet Boy Nick Carter.
Most recently, Peniche was being treated for sex addiction on Dr. Drew's "Celebrity Rehab," but was kicked off the show after accusations that she punched a cameraman and stole from her roommate, country singer Mindy McCready.
Gawker.com reports Peniche has most recently been working as a madam in Hollywood.
Much to the couple's dismay, the undated video was never deleted and was eventually confiscated by the Los Angeles Police Department when they searched for Peniche's client list.