Bryson Gilreath from "My Life as Liz" refuses to conform to stereotypes and prides himself on being an independent thinker. Though he will never accept the "rampant ignorance" of his alma mater, Bryson from "My Life as Liz" has found a surprising number of awesome, like-minded fellows in his school such as Liz. Bryson Gilreath's intelligence, athleticism, and sarcastic sense of humor have gained him an eclectic group of friends around BHS. After a failed attempt at starting the "Church of the Flying Spaghetti Monster" club at school, Bryson from "My Life as Liz" decided to focus on what he does best.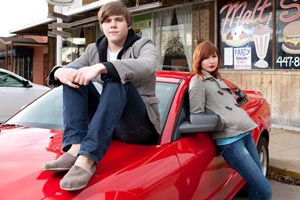 Bryson Gilreath's Hidden Talents
1. Talking about how damn awesome I am at so many things.
2. Ignoring the fact that nobody else agrees with number 1 (this is actually very difficult).
3. Am I allowed to say "pleasing a woman?"
4. I like to think that I am a fairly talented writer (I really have no objective reviews of my work).
5. I excel at getting things done with the absolute slightest amount of hard work.
6. Setting up my friends' computers and music piracy software.
7. Recommending movies.
8. Letting you know just how much your music sucks.
9. Hiding the fact that I secretly have the same sh*t on my iPod.
10. I'm a big time history buff.
11. Hating Lil' Wayne. I take the gold in that event.
12. Surprising people with an inexplicable knowledge of sports and country music.
13. Having fun with very diverse groups of people.
14. Looking like an idiot and getting my ass kicked at hardcore/punk shows.
15. Coming across as a pretentious jerk sometimes.