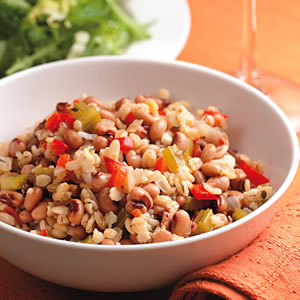 Here is Hoppin' John recipe, with a promise for new stuff in the New Year. Make this your first bite to eat in the New Year to bring, according to Southern tradition, good luck throughout the year.
2½ cups black-eyed peas
4 tablespoons butter or peanut oil
2 each ham hocks
2 each onion, diced
8 cups water
1 teaspoon black pepper
½ teaspoon crushed red pepper
1 tablespoon garlic
2 each bay leaf
salt and pepper, to taste
Soak the peas overnight in enough water to cover by half, then drain, rinse and proceed.
Brown the ham hocks over medium heat in the butter or oil in a large stock pot. Once browned on each side, add the onions and sauté until tender (5 to 8 minutes).
Add all the remaining ingredients and increase heat to bring to a boil, then reduce to a simmer and let cook 60 to 90 minutes or until peas are tender. Taste to adjust salt and pepper, then serve over buttered white rice.
Makes 8 to 10 servings.