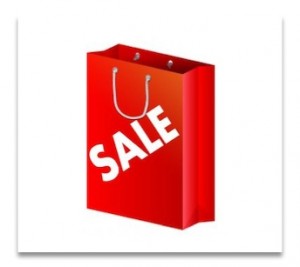 These sites that help you compare prices, get coupon codes and more!
Hot Deals
Try dealnews.com, which has a team of deal hunters keeping their eyes on a million products at more than 2,000 online retailers. Plus merchants and the site's visitors tip them off to bargains. The deal hunters hand pick the best deals among the thousands they get daily and update the site at least 200 times a day, says Dan de Grandpre, founder and chief executive of dealnews.
The site also bans stores with poor customer service. Plus, you can sign up for e-mail or RSS alerts for products or stores you're interested in and get gift ideas from the site. Dealnews also has added a local deals section to help you find discounts at brick-and-mortar stores near you.
GottaDeal.com is another great source of deals. You may find some here that you won't find at dealnews. A reader favorite is Slickdeals.net, a user-driven deal sharing site. It features a few deals on its homepage daily, but its forums are where you'll hundreds of deals posted daily. You can find lots of bargains at deal-of-the-day sites, such as Woot.com. But it would take a lot of time to check each one of these sites, which list only one deal a day. DODTracker.com does the hard work for you. It lists hundreds of items from deal-a-day sites and daily deal offers from retailers, such as Amazon.com. It shows how long the deal has been posted, time when sale ends, amount of discount (if available) and whether the item still is in stock. When you click on any of the tabs at the top of the homepage (All, Computers & Electronics, etc.), you'll get a page that lets you sort by retailer, product, price, discount and more.
If you don't want to rack up credit-card debt shopping this holiday season, there is a safe way to pay with cash online — and get deals. EBillme.com offers you a way to make secure cash payments when you shop online.
Find the lowest price
Pronto.com fetches prices on 70 million products from more than 25,000 online merchants, including eBay. It also lets you sign up to receive e-mail alerts when your favorite brands or products go on sale. Google's shopping search engine, Google Product Search, is great if you want just a bare-bones price comparison tool. What you'll get are lots of results for your search, product reviews, seller ratings and a "local shopping" option to help you find products at stores near you. What you won't see is a home page full of hot products, shopping guides, product categories and colorful images.
Shop with cyber-coupons
To sweeten any deal you find, search for coupon codes to get an even bigger discount. Plenty of sites offer coupon codes (and printable coupons) for online and brick-and-mortar retailers. The nice thing about our picks is that you don't have to register on these sites to gain access to the coupons.
CouponCabin.com has more than 110,000 active coupons and deals. Its staff searches merchant sites, forums, blogs, consumer emails and even the Sunday Paper for coupons and updates its listing three times a day. It shows when a coupon expires and when it was last tested, so you know it still works. CouponCabin.com also offers a downloadable toolbar that displays coupons and deals if you visit one of its 2,500 participating merchants online.
CouponWinner.com has more than 27,000 coupons from about 9,000 retailers. What we like about the site is its Coupon Scout tool that lets you compare coupons from up to five retailers. Click on a category, such as women's apparel, and the Coupon Scout tool will appear on the left-hand side of the page.
To truly get in the spirit of giving, consider AlexsCoupons.com. Not only does the site offer coupon codes for more than 1,200 stores, but also it helps in the fight against childhood cancer. Alex's Coupons has donated more than $20,000 to childhood cancer charities.
Gift card deals
Never pay full price for a gift card again. PlasticJungle.com and GiftCardGranny.com sell merchants' gift cards for less than face value. They'll also buy gift cards you don't want (for 80% to 90% of the card's value).Buying a discounted gift card to use for your own shopping is a good way to score additional discounts. For example, buy a $100 Gap gift card for $90 (instant $10 savings), use it to shop online and use a coupon code for additional savings.
Free shipping deals
High shipping costs can be a big drawback to shopping online. FreeShipping.org offers free-shipping coupons for more than 3,800 stores, including Amazon.com, Target and Best Buy. And all you last-minute shoppers don't want to miss Free Shipping Day December 17. More than 700 merchants already have signed up to participate this year and guarantee Christmas-Eve delivery for all items purchased on Free Shipping Day.
Parting tips
On a final note, if you're shopping online be sure to look for privacy and security seals on retailers' sites, know the return and exchange policies, and check shipping deadlines to ensure your gifts arrive on time.
And to make sure you're getting the best bargain online, look for the item at the best price from a merchant with free shipping and a coupon to lower the cost even further — the trifecta of bargain shopping.
Happy shopping!